Stories of Strength
Ringing in Good Health
Team of SBL doctors help Martinsville man battle cancer.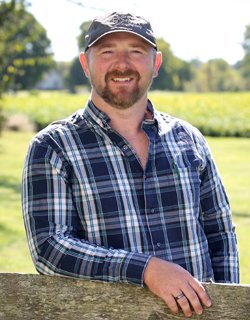 When Bryan Bennett felt some lower back pain in February, he didn't think much of it at first. As a farmer, he endures a lot of physical labor, and as a Casey-Westfield High School teacher, he's always on his feet.
Bryan, a Martinsville resident, attributed his pain to his busy and active lifestyle, but when he noticed in March that one of his testicles was swollen, Bryan knew that he needed medical help. After multiple tests, scans and opinions from a team of Sarah Bush Lincoln doctors, Bryan got the news: he had testicular cancer.
"It was kind of just a big blur. At first, I didn't really believe it. I thought, 'There's nothing wrong with me. I'm tough; I don't feel bad,'" Bryan said, but SBL doctors told him that something was wrong, and they were going to help him get through what would be a six-month-long journey.
"They said it was going to be tough on me, and I said that's fine. Throw the kitchen sink at it, and let's get it whipped," Bryan recalled.
After the symptoms appeared, Bryan consulted John Richards, MD, at the SBL Martinsville Clinic. Dr. Richards examined Bryan and did blood work, but he wasn't able to form a concrete diagnosis. Because he wanted to be sure, Dr. Richards ordered more tests to be done, including an ultrasound.
Based on the results of the ultrasound, Bryan was told he needed to have CT scans and X-rays. Bryan visited the SBL Urology Clinic in early May, where David DiDomenico, MD, DO, told Bryan his right testicle would have to be removed. On top of that, there was a three-inch mass in his lower abdomen, which caused the back pain. After seeing Dr. DiDomenico, Bryan met with Medical Oncologists Kuppuswamy Jagarlamudi, MD, and Abdur Shakir, MD, at the SBL Regional Cancer Center, who laid out their treatment plan.
Following the orchidectomy, Dr. Jagarlamudi and Dr. Shakir reassured Bryan that they would help him. "They said, 'We're going to treat you, and we're going to cure you,' and that's one of the greatest feelings ever," Bryan said.
In the days that followed, Bryan received a chemotherapy port, and medical treatment began. In total, Bryan received three rounds of chemotherapy, equaling 21 treatments. The treatment was so tough on his body that it kept Bryan from his active daily routine.
Typically, Bryan manages his farm and his teaching duties, plus he is active in his community. But in his time of need, the community came together to support him. "I had an army of followers and helpers," Bryan explained. "People from my church, the community and the school district stopped by all the time and did whatever they could to help, including on the farm."
All of the support Bryan received from his friends, his family and the community was heartwarming, he said. His biggest supporter, of course, was his wife Kourtney, who he is thankful was right there with him the entire way.
While the mass responded to the treatment, the treatment took a toll on Bryan's body. As treatments continued, Oncologist Lawrence Einhorn, MD, an expert in testicular cancer at the Indiana University Medical Center, was added to the treatment team. Dr. Jagarlamudi and Dr. Shakir consulted with Dr. Einhorn about treatment methods, and Bryan consulted with him about the mass in his body, which was near his aorta. Had it been too large, it would have needed to be surgically removed. Luckily, Bryan got the news that he didn't need surgery or any more chemotherapy. "When [Dr. Einhorn] said that, it was one of the greatest feelings in the world," Bryan said.
Bryan credited the SBL staff members for everything they did along the way. He is very thankful for Dr. Richards for ordering the tests at the beginning of his journey, and he said that Dr. DiDomenico, Dr. Shakir, Dr. Jagarlamudi and the nursing staff were all very nice and helpful throughout.
Bryan "rang the bell" in July, signaling the end of his chemotherapy treatment, and then he returned to his active lifestyle.
To learn more about the SBL Regional Cancer Center, call 217 258-2250.
---