Stories of Strength
Defying the Odds
Jerry Beals received hope and time, thanks to the SBL Regional Cancer Center.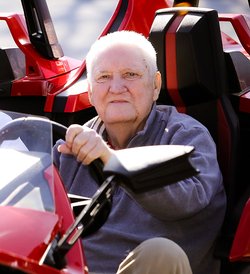 Jerry Beals received the worst possible news when he was diagnosed with non-small cell carcinoma. It wasn't that he had cancer or that it had spread to several places in his body; it was that his doctor gave him two to five months to live without treatment— and that Jerry shouldn't undergo treatment.
Two years prior, Jerry's doctors in Florida had detected a small spot on his lung, but they felt it was a remnant from pneumonia. Jerry underwent PET and CT scans each year as a precaution; one set of tests revealed that the spot had grown. When Jerry and his wife, Barbara, received the devastating diagnosis following a needle biopsy last summer, they moved home to spend with family whatever time Jerry had left. The nine years they had spent in Florida was great, but that chapter was over.
Their son, Jerry Jr., traveled to Florida multiple times to accompany his dad to doctor appointments and to help his parents with the move. When they returned to Tuscola, Jerry Jr., urged his dad to get a second opinion at the SBL Regional Cancer Center before entering hospice care. Oncologist Abdur Shakir, MD, and Radiation Oncologist Seong Cho, MD, thought differently than his dad's Florida doctors had. They had a plan to attack the cancer that had spread from his lung to his shoulder, hip and chest. 
Jerry is a born entrepreneur with a nothing-gambled, nothing-gained mentality. He had worked as a mechanic while serving in the US Army in Vietnam, so post-discharge he used his skills to open Arcola Auto Repair, and, later, Central Illinois Transmission in Mattoon, which his son now owns. He and Barbara then purchased the long-time tavern, Castle Lounge, and operated it for 10 years. 
After talking through a care plan with Dr. Shakir, Jerry decided to undergo chemotherapy, radiation therapy and immunotherapy. The latest PET scans show that while the spots were still present, the cancer is gone. "I think Dr. Shakir was even shocked. I'm not cured by any means, but it's been slowed down," Jerry explained. "Cancer treatment is not pleasant, but it sure beats the alternative."
Jerry fondly refers to Dr. Shakir as 'Dr. Superior.' "The Regional Cancer Center is just awesome. Everybody is so friendly. We're all on a first-name basis, and they ask about our families. They are very kind," he said.
The Beals' daughter, Tina Kibler, recalls, "My three sons are in the military, so one of my sons, who was in the Navy on deployment, hadn't seen Dad for a year. In fact, my three sons and niece hadn't been together for the holidays in four years with my parents. We were praying Dad would make it to Christmas 2022. When Dad made it through Christmas, we were hoping he'd make it to his and Mom's 55th wedding anniversary. And he did. It's really a miracle. So many things have just fallen into place."
While Jerry relishes the time he spends with his family, "What happens, happens. I try to keep a positive mindset. There's still plenty I want to do: play a little golf, fly down to Florida to see my buddies and ride my motorcycle," he said. 
Jerry was so optimistic that he bought a new slingshot motorcycle to enjoy this spring and summer. "You never know what time you have left. I have to make the most of what I've got," he said. "Part of me wanted to check out, but the staff [at the Regional Cancer Center] was absolutely fantastic. I can't praise them enough."
Tina added, "I know if he didn't go to the Regional Cancer Center, he wouldn't be here today. They saved my dad's life."
To learn more about the SBL Regional Cancer Center, call 217 258-2250.
---